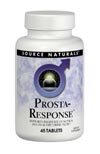 Bio-Aligned Chart
Prosta-Response™
Supports Prostate Function and Healthy Urine Flow
Hormonal Regulation
Hormones have a direct role in prostate functioning. Research demonstrates that plant extracts and minerals inhibit testosterone uptake by the prostate, its conversion to DHT, and subsequent binding to receptors within the prostate.
Nettle, Pygeum, Red Clover, Saw Palmetto, Soy, Swedish Flower Pollen, Zinc, Vitamin D-3
Cellular Regeneration
Used extensively in Europe and Asia for more than forty years, swedish flower pollen extract has demonstrated significant effects in maintaining proper prostate cell regeneration.
Lycopene, Nettle, Quercetin, Red Clover, Swedish Flower Pollen, Vitamin D-3
Soothing Mechanisms: Prostaglandin Synthesis
Certain plant compounds, such as flavonoids from soy and sterols from pollen extract, inhibit the metabolism of arachidonic acid. This influences prostaglandin synthesis, which is associated with comfort levels.
Beta Sitosterol, Pygeum, Quercetin, Saw Palmetto, Soy, Swedish Flower Pollen
Bladder and Urinary Tract Health
Important to the health of the prostate is the whole environment of the bladder and urinary tract. The integrity of these tissues supports normal urine flow and prostate function.
Alanine, Glutamic Acid, Glycine, Goldenseal, Gravel Root, Marshmallow Root, Pumpkin Seed, Pygeum, Swedish Flower Pollen, Uva Ursi
Prostate Health
Studies show that dietary factors influence the overall health of the prostate. For example, the body naturally concentrates certain compounds in higher amounts in the prostate.
Soy, Zinc, Vitamin E, Pumpkin Seed
Antioxidant Defense
Oxidative stress (free radical damage) can trigger a host of destructive processes. Antioxidants play an important role in prostate functioning, including protection of cell membranes.
Ginkgo Biloba, Grape Seed, Green Tea, Lycopene, Quercetin, Soy, Selenium, Zinc, Vitamin E, Pygeum, Swedish Flower Pollen