Our Wins Support Your Wellness
The advanced thinking and scientific formulation behind Source Naturals® products have been recognized by our peers repeatedly over the years—but it's what we do for each of our customers that's really important: Source Naturals helps you achieve your highest state of wellness.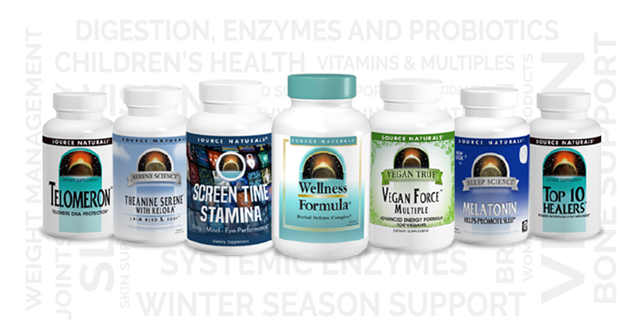 Winter Season Support - Wellness Formula®
Source Naturals Wellness Formula® established the wellness-immune supplement category 35 years ago, and millions of people have turned to it every year since. Why is Wellness Formula so popular? Because it's uniquely effective, with an advanced Bio-Aligned Formula® designed to bring harmony to the interconnected systems responsible for your immune health.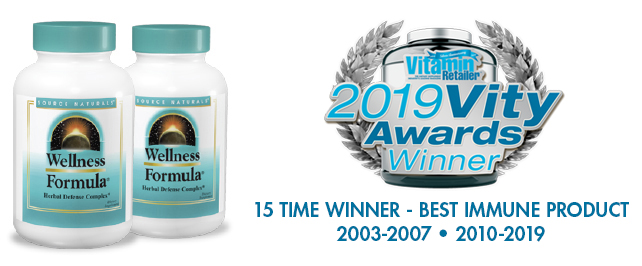 Springtime Seasonal Support

Vitamin Retailer Vity Award for Natural Allergy/Hay Fever Remedy — June 2019 & June 2014

Source Naturals Allercetin™ Allergy & Sinus helps take the sting out of seasonal allergy symptoms. The natural homeopathic remedies in our Bio-Aligned Formula® go deep to balance the multiple systems involved in your body's hay fever response.*

Bone Support

Delicious Living Award for Best Bone — February, 2015

Better Nutrition Best of Supplements Awards for Best New Supplements — November, 2013

Source Naturals MBP® Bone Renew™ is powerful, clinically backed support for better bones. The natural milk-based protein MBP promotes healthy bone density by increasing the growth of bone-forming cells and by making bones more receptive to calcium—yet it's still easy for most lactose-intolerant people to take.*

Healthy Aging & Inflammation

Better Nutrition Best of Supplements Award for Anti-Aging and Overall Health — Sept 2016

Source Naturals® Top 10 Healers™ supercharges your daily vitamin routine with 10 of the most well-researched, most critical nutrients and botanicals for heart, brain, immune system, and liver detox support—ingredients not usually found in daily multivitamins. Think of it as your recipe for super wellness.*

Better Nutrition Best of Supplements Award for Anti-Aging — Sept 2015

NEXTY Editors' Choice Award for Supplements and Ingredients — June 2015

Healthy aging depends on how well your cells function, and how well your cells function is associated with having healthy telomeres, the special DNA that protects the ends of every chromosome. The advanced formulation in Source Naturals Telomeron™ features the ingredients that preliminary research suggests can help maintain healthy telomeres and support healthy cellular aging.*

Sleep

Vitamin Retailer Vity Award for Best Natural Sleep Remedy — June 2015

When you sleep well, your body can repair the wear of the day and renew your mental and physical resources. A favorite of travelers, Source Naturals Melatonin works the way your body works, alongside the melatonin that your brain produces naturally, to help you fall asleep quickly and wake up refreshed.*

Stress & Mood

Better Nutrition Best of Supplements Award for Stress, Anxiety & Mood — Sept 2014

The potent nutrients and time-tested herbs in Source Naturals Serene Science® Theanine Serene® with Relora® can help you reclaim your calm center in the midst of stress. L-theanine, a natural relaxant from green tea, supports relaxation and focused attention, and Relora, a proprietary blend of magnolia and phellodendron extracts, may help soothe temporary anxiety.*

Vegan

NEXTY Editors' Choice Award, Vegan True® line for Supplements and Ingredients - June 2015

Source Naturals Vegan True® products are designed specifically for a vegan's unique nutritional needs—with nutrients that are difficult to get in a typical vegan diet and supplements that are hard to find in truly vegan form. Every Vegan True product is 100% free of any animal products or animal-derived ingredients.*

Delicious Living Best Multiple Award, honorable mention for Life Force Vegan - Mar 2014

A multivitamin can help your body get some of the nutrients that your diet might be missing…but taking the RIGHT multiple can give you the extra edge in achieving your daily goals. Source Naturals Life Force® Vegan Multiple delivers key science-based nutrients to support a healthy, energetic vegan life—including plant-based vitamin D.*

Vision

Better Nutrition Best of Supplements Awards - Vision Health Category, September, 2017

NEXTY Editors' Choice winner - Supplements and Ingredients, June, 2015

Designed specifically for those who spend much of their day logged on, Source Naturals® Screen Time Stamina™ supports eye health and visual performance, physical endurance, and healthy mental focus. Its array of science-backed herbs, vitamins, and nutrients provide the ease and stamina you need for a full day's endeavors onscreen (or off).*
See our complete list of award-winning products.

*These statements have not been evaluated by the Food and Drug Administration. This product is not intended to diagnose, treat, cure, or prevent any disease.