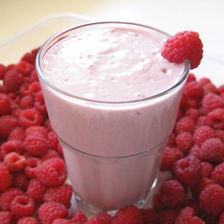 With just five ingredients, this vegan smoothie is super easy to make, and even easier to drink. It's healthy as well as deliciously sweet, and creamy.
Recipe Yield: 2 servings
Recipe Calories: 312
Ingredients:
1 (10.5 ounce) box organic silken tofu
1 cup frozen raspberries or strawberries
1/2 cup fresh orange juice
2 tablespoons brown rice syrup
1 tablespoon fresh lemon juice
Recipe Instructions:
In a blender, combine all ingredients. Purée until smooth and sweeten to taste.