Interview with Jim Selby: Senior Athlete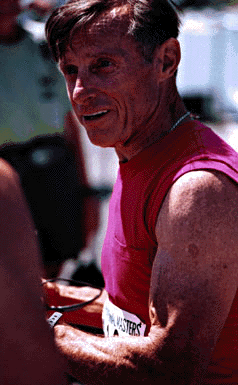 Jim Selby is a 76-year-old father, teacher, writer, coach, athlete and former Marine who holds some impressive national and world records. At the 2003 USA National Masters Track & Field Championships, Jim set a new American record for the 75-meter steeplechase race, beating the previous record by more than 30 seconds. Recently, Jim agreed to take time from his busy schedule to speak with Adina Licht, M.S., one of Source Naturals' nutritional scientists, about critical health issues in the U.S.
Adina Licht: How often do you train?
Jim Selby: My morning exercise takes about an hour and a half. And I give myself stars for it. In my log, I get so many stars for each exercise. If I work out for about four or five hours, then I get about 40 stars. I try and get at least 30 stars every day. At 30 I am progressing but at 40 I am seriously training for a race. There are very few days that I don't train for at least three hours. My daughter Debbie and I train together and we coach each other. She is 48 and she runs in the races too.
AL: Do you take any vitamins, minerals, herbs or other supplements?
JS: I take close to 100 pills a day. I have some in the morning when I first get up. Then I have some with an energy bar because you have to have food with some of them. Then I have some afternoon pills without food and then another set in the evening with another energy bar or some more food. My doctor and my daughter decide my supplement routine to keep me healthy. I know it seems crazy to take so many but I also know that I have been feeling good and doing extremely well with it. If it's not broken, don't fix it.
AL: Which supplements do you take?
JS: I take the basics " chondroitin, vitamins, and a whole lot of antioxidants. And I tend to be anemic so I also take extra iron and vitamin B-12. A lot of supplements I take are for my joints, my cartilage, and to help keep me healthy. I had a foot operation a few years back so I need to be careful about that.
AL: How has taking supplements helped you?
JS: I am 76. But when I look in the mirror, I still have my hair and it is still dark. When some of my hair was starting to go a little gray, I started taking supplements. Supplements help keep the color in my hair so when I look in the mirror then I don't see that old guy. I look in the mirror and see someone who is 22 years old [chuckles]!
AL: What events have you participated in at the Senior Games?
I do many sprinting events, including the 100, 200, 400, and 800-meter dashes and the steeplechase. I also do some weight lifting in other competitions.
AL: Have you practiced these sports all your life or are they something you?ve taken up more recently?
JS: I have been active all my life. I come from the south Boston area. There were mostly Irish immigrants. My family had a strong Catholic background. My grandmother would say if you wanted food then you better go to mass and do your stuff [chuckles]. I was in St. Monica's parish where I played baseball and football since I was nine years old. They kept you organized and out of trouble. I have always been very active. My mother would say that I should have been twins [chuckles]. In 1956 I even tried out for the marathon in the Olympics.
AL: How long do you hope to continue to compete in the Senior Games?
JS: I take it day by day. I don't know what I'll be doing next week. And I pick my words carefully. I don't want any negative feedback. As they say, "life by the inch is a cinch and by the yard is hard." And when you get more mature it is even more important. I am not going to feed myself negative thoughts. I am getting better, not older.
AL: What is your favorite meal?
JS: My favorite food is pasta. I just love spaghetti. I used to skip the meat sauce but now I have some. I need the protein.
AL: How do you wind down after a stressful event?
JS: I used to lift weights after a big race to help wind down. And I keep a shoebox with all of my medals out in my family room. I put the date on each one and I think about how I will work for more and someday there might be more medals in that box.
AL: What advice would you give to someone who is interested in becoming more athletic?
JS: The Senior Olympics folks give out my phone number to people who are interested in learning about running. My daughter and I help coach them. I tell people to try something new every single year. Because you might find yourself saying, "I didn't know I could do that!" Those are the times when you are really reaching someone. And I say that if you really want to be a runner, then you run! You think about what you really want to be and you be it. You are what you think you are. Before a race, all night long I run that race in my mind. I do it over and over. You apply yourself to it as much as you want it.
AL: What activities do you enjoy doing the most?
JS: The best thing I do in this life is I work hard. And I work harder than everyone else. I have always been a very competitive person. I was a great student, an honor student, always at the top. That competitive feeling applied to everything. I am not a very tall person, but when I was in the Marines they told us we are all seven feet tall and since then I see myself as seven feet tall. I believe that attitude is everything. Before I run a big race I imagine myself running the race and running around all of the people who try to pass me.
AL: What makes you proud?
JS: People at the track sometimes tell me that they want to be a Jim Selby when they grow up. I even met someone at a race who told me he wanted to be a Jim Selby, and he didn't even know he was talking to me! It was funny and I was proud but it isn't a big ego thing for me. I have done well but I am really out there as an example of what can be done and I am enjoying it. I am getting the cake and the ice cream too!
AL: Good luck, Jim!