Interview with Sarah Kerlin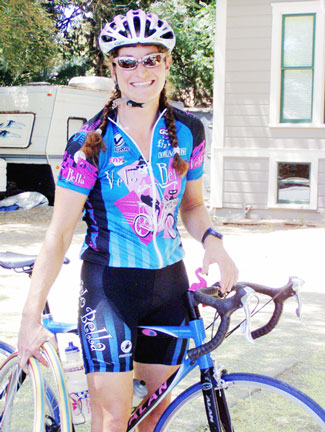 Recently returned from World Championships at St. Wendel, Germany, Sarah Kerlin is a Santa Cruz neighbor and a rising star in the international cross-racing championship circuit. She and two other local Velo Bella racing team members, Gina Hall and Barbara Howe, were selected to participate in the 2005 UCI Cyclo-Cross World Championships in St. Wendel, Germany. Sarah placed 19th worldwide and finished as the number two American rider. When she isn't jet-setting around the world to race, Sarah can be found at the SC farmer's market, where she sells organic produce for Happy Boy Farms and Fearless Pickles, or at her other job at the Santa Cruz Adult School. We were lucky to catch this funny, enthusiastic and busy woman for a quick interview.
Todd Williams: Sarah, could you please share the nutritional strategy that helps give you a competitive edge?
Sarah Kerlin: First off, I'm a big fan of melatonin. It really improves my ability to compete the next day after I've flown cross-country. If I race for several days in a four-day stage race, it's difficult to slow down for sleep. Melatonin helps. I take inosine, which helps with the creation of ATP. More ATP can help stop cramps late in a race. More ATP fuel means more powerful muscular contractions. It can help you push past your limits. I like whey protein because it's not a plant protein. It's easy to digest and assimilate. I use a diluted whey protein liquid in a water bottle during race events. Just a little protein will level out your blood sugar level and this will help prevent energy "bonking" (crashing). As a stabilizer it's been key for me and as a result I've been much more successful in the longer races. I use whey blended with a banana after a race as a recovery drink. It's the simplest and easiest way to begin the recovery process. I keep them pre-made in a cooler.
TW: Your nickname is "Bella Loca." How did you get that handle?
SK: I was in Vermont for the NORBA (National Offroad Biking Association) Nationals and I had a bad spill on my first lap early in the race, which dislocated my shoulder. I popped my shoulder back in and continued to race! It was a rocky, treacherous, downhill course and impossible to stop. Instinct and adrenaline took over. I was cussing and yelling each time I hit a rock. The funny thing was that the fans loved this and they were cheering because I was screaming from the pain. That's how I finished the race. My teammates, not knowing how to deal with my single-mindedness, labeled me crazy, Bella Loca, and it stuck. I just didn't want to stop. Racing provides a way to learn about yourself and that's part of what I like about it. I was injured in a bad car accident not too long afterward. I used a holistic approach to healing both injuries. I've been studying yoga for 10 years. Yoga postures helped me to regain my strength and avoid surgery.
TW: Can you tell us about the Velo Bella Racing Team?
SK: My dad, who's been in cycling for 40 years in northern California, says that Velo Bella is an important breath of fresh air in the cycling scene right now. It started locally but we now have members from all around the country. It's a unique experience being on this team. We don't emphasize the competitive aspect but that doesn't mean we don't win. It's more about the friendships, training together, dancing together, and so on. We travel together, and e-mail stupid jokes and banter to each other. We're very connected and it's a lot of fun. Egos don?t last. You've got to roll with the punches and we roll together as a team.
TW: And where did you roll to this year?
SK: Well, there was the World Cyclo-Cross Championships in Germany. There was the World Cup, Adri Vanderpol Classic in the Netherlands. I placed as first woman in the Zonnebeke, in Belgium. I was fifth on the podium next to Olympian Mary McConnelloug (fourth) at the National Cyclo-Cross Championships in Portland. And I won the National Championship there for my age group.
TW: How was your championship tour to Germany?
SK: I'm nostalgic about the beer, the chocolate, the croissants and the Belgian waffles! I really liked a Belgian beer called Grimbergen. I have a funny story. I had just finished and placed in the world championship. I was hugging my sister when a race official "invited" me to the doping control lounge for drug testing. My feet were frozen and I didn't have to "go." You have to go and sign papers in front of these stuffy officials. On the other hand, they offer plenty of beer to help and I proceeded to help myself! It was great! Then they realized that there had been a mistake and that I didn't have to be tested after all! Oops! I mainly wanted to enjoy the experience and have fun. The officious part I can do without.
TW: What really gets you excited?
SK: I want to race at the most spectacular national-level race venues with the most outrageous crowds! If they're nuts, I love it! I'm looking forward to Sea Otter at Laguna Seca, which is a four day race in April. It's a 20 minute short track in the middle of Laguna Seca. You're racing full-on with several thousand people packed in around you. The intensity of the crowd around you is equal to the intensity of the pain. You start to disassociate and it's like an out-of-body experience. There's the T-Mobile International in San Francisco. Lance Armstrong will be there. It's a huge road race up Taylor and Fillmore. You do laps with fans screaming. The up-hills are killers and the down-hills are flying on adrenaline across train tracks and pot holes. It's a surreal experience.
TW: Where do you see yourself in the near future?
SK: October through January will be a full season of cyclo-cross, which has become my focus because I found out I'm good at it! I really want to win one of the home races in the national tour. I look forward to the finals at Golden Gate Park. I want to go back to Europe around Christmas.
TW: Can you tell a little bit about your sponsors?
SK: I'm really grateful to my chiropractor, Aubrey Miller. I love Paul at Rock Lobster Cycles, where they make really great custom frames. Another Bike Shop has been very supportive. I bought my first mountain bike there and I wear their jersey.
TW: Good Luck, Sarah!
Todd Williams is the Marketing Programs Manager for Source Naturals.