Interview with Arlo Buijten, Titus Pro-Rider
Ambassador To Health Profile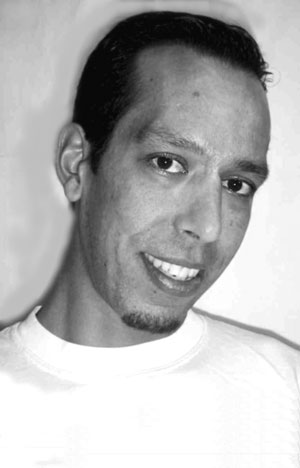 ---
Arlo Buijten (pronounced Boytun) is a Santa Cruz neighbor and professional mountain bike celebrity. He won the NORBA American Mountain Bike Championship Series race last year at Big Bear, California. He took eighth over-all last year in the National Championship Series Marathon Event (which is a 100K mountain bike race). Arlo has been using nutritional supplements to support his extreme sport endurance requirements by using electrolytes, a sport multi-vitamin and supplements to help with high-altitude racing. With the 2005 NORBA (National Off Road Mountain Biking Association) National Mountain Bike Series coming up, Arlo took some time off from his busy schedule to speak with Todd Williams, Source Naturals Marketing Supervisor, about the health rewards of an extreme sport.
Todd Williams: Arlo, How did you first get interested in mountain biking?
I needed a change in my exercise routine. I started when I was 24 years old and I've been at it for 10 years. I was a trail runner before but I needed something to take stress off my knees. So, mountain biking is both an outdoor sport and puts less stress on my knees. I like being in the backcountry. When you mountain bike the terrain is always changing. There's nothing like descending into a valley that seems to go on forever and you can get literally lost back there. I've been on races in the Colorado Rockies that go through endless beautiful valleys. I've seen mountain lions at Wilder Ranch (outside Santa Cruz). Actually, I saw a mountain lion cub but I didn't wait around to see the mother! Now, when I race, there may be 15 to 25 thousand people attending a national event. It's really exciting. Once you start racing bikes, it's hard to stop. I'm in a race every two weeks from spring to late fall.
TW: Wow! So, you've been at this for a while and you're a star performer. Do you have groupies? What about a "significant other"?
Well, I'm a star in the eyes of my own family. The fans are definitely a motivator, but sorry, no groupies!
TW: You're kidding! So you're available? Some of our readers might find that interesting!
Yes, I'm available. Seriously, I just try to have a good attitude and represent the sport in a positive way. I've been getting some great attention from the media! I was listed in the December issue of Mountain Bike Action magazine for my results at the Nationals. I feel lucky to be a role model for younger riders coming to the sport. With Titus, we promote a positive athletic image. Mountain bike racing requires a lot of focus. Confidence is key when you're suffering through a long race. A positive attitude is really important if you want to win.
TW: Does off-roading require that you be in top physical condition or is it the other way around, with enough focus and work it puts you in top shape?
It works both ways. You get out of it what you put into it. If you haven't put in a good training effort, you'll see it on race day!
TW: What have you been actively doing to maintain your edge?
I take vitamins that support a healthy immune system. I take a men's sports multi-vitamin. I take CoQ10, and ginseng. And depending on what phase of training I'm in, I eat a high-carbohydrate and lean protein diet. There is no "off season." I have a race every two weeks, so I'm pretty much carb-loading all the time. If you don't do it you'll suffer late in a race with nothing to burn for energy. I fluctuate between 150 and 155 pounds. If I don't take enough liquids during a race I can lose 5 lbs weight, which is mostly water via sweating. It's really important to have a recovery plan after the race, which for me is, again back to supplements. I take electrolytes, B-Vitamins, Chromium, Calcium and Magnesium. A lot of these races are three or four day events so recovery is really important. And so is a progression training regimen: you work up to a base training level, then you work on specialty-type training. If you have a good stamina base it helps your higher-level work. And this in turn makes it easier to recover.

TW: You mentioned to me before that you were taking supplements to help with altitude conditioning. Why was that an issue and what were you taking?
It was an issue because I live at sea level but I regularly travel to 8 or 9 thousand feet in elevation to race. And I'll tell you; racing at that elevation feels like you're racing in slow motion. Your body just does not get enough oxygen. Red blood cells don't get enough oxygen and your muscles drag. I need all the help I can get so I take supplements to help cell respiration like B-vitamins. I try to supplement to help cell glycogen uptake as well, so I take ginseng, and for oxygen uptake of red blood cells, iron is helpful.
TW: Can you tell me a little about Titus Cycles?
Titus Cycles is passionate about their bikes and have this quest to build the perfect bike so they're always innovating and improving their designs. I share their passion about the sport, so they're a great match for me. They make the best bikes! They're a great company to work with. They provide the best service. They're one of the few companies where when you call them, you actually get to talk to a real person! And, you can get a bike that is custom made for your needs.

TW: So where to next? What's your next big goal?
My next race is in March, in southern Texas, which is the first race of this year's National Championship Series. There's Phoenix, Arizona, and Laguna Seca in April. Ultimately, my big goal is a top three over-all finish in marathon series in the 2005 Championship Series, which takes place in September at Mammoth Mountain, California.

TW: Arlo, Good luck!