Interview with Aubrey de Grey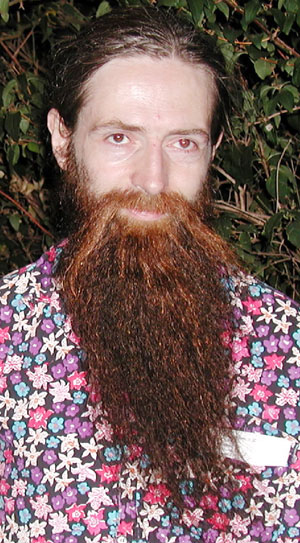 Aubrey de Grey is Chairman, Chief Science Officer and co-founder of The Methuselah Foundation and the main architect of the Methuselah Mouse Prize, which has been compared in the press to the famous X-Prize for space exploration. Aubrey is a biomedical gerontologist at the Department of Genetics, University of Cambridge, UK. His major research interests are the role and etiology of oxidative damage in mammalian aging, including both mitochondrial and extracellular free radical production and damage, and the design of interventions to retard and reverse the age-related accumulation of oxidative and other damage. He has published extensively on these and other areas of gerontology. I was honored to have an opportunity to talk with Aubrey about his exciting list of current projects.
Todd Williams: Aubrey, Thank you for taking your valuable time to talk with us! Source Naturals has it's own "dirty dozen" list of problem areas: Inflammation, Oxidative Stress, Mitochondrial Energy Depletion, Glycation and Sugar Metabolism, Hormone Imbalance, DNA, Immune System Dysfunction, Brain Health, Circulatory Imbalances, Liver and Detoxification, Digestion, and Methylation. This list has some similarities to your list of "seven deadly processes": Cell Loss & Cell Atrophy, Nuclear Mutations, Mutant Mitochondria, Cell Senescence, Extracellular Crosslinks, Extracellular Junk, and Intracellular Junk. Would you care to comment on the similarities, and, in your opinion, what areas seem most promising and deserving for longevity research?
Aubrey de Grey: The main difference between your list and mine is that your items fall at a variety of places in the causal chain of events of aging. Things like oxidative stress are ongoing aspects of metabolism; they cause damage, such as mutations and cell senescence, which in turn cause pathological changes like immune dysfunction. My list is focused exclusively on the middle of that chain - things I call "damage." I think they're the easiest target for life extension because they're not so complicated as the things that cause them (metabolism) or the things they cause (pathology) in terms of how they interact.
TW: Methuselah is biblically reported to have lived to be 969 years old. What motivated you to found the Methuselah Foundation?
A de G: We wanted to raise the profile of life extension research by putting it into a context that people identify with. Most people turn off when you talk about science, but when you talk about world records and prizes they are on more familiar ground and they pay more attention. So the idea of a prize for unprecedented long-lived mice was a way to tap into that.
TW: The M-Prize actually consists of two prizes. One is the Longevity Prize. The other is the Rejuvenation Prize. Can you tell us a little about the structure of the contest and about the reaction of the scientific community to the contest?
A de G: The Longevity Prize is the simple "headline" one, for making a mouse that lives longer than any other mouse we've ever heard of. If you do that, you win an amount that's determined by the size of the prize fund at that time and also by the margin by which you beat the previous record. The Rejuvenation Prize is a bit more complicated.
It's awarded not for an individual mouse but for a published study (something that has clearer scientific value than a single mouse) and there are also criteria that ensure that it works when the therapy is started relatively late in life. The reaction of the scientific community has been tremendous: virtually everyone has felt that this is a great way to popularize life extension research without trivializing it. Several top scientists have signed up as competitors, as scientific advisors or even as donors to the prize fund: for example, recently the famous biotech pioneer Dr. William Haseltine donated $1000 and committed to donating a further $1000 per year for the next 25 years.
TW: You've likened the efforts of the Methuselah Foundation to that of the "Manhattan Project." Could you explain how they're similar?
A de G: Actually the current work of the Methuselah Foundation is not really what I was talking about there. In the future we intend that the Foundation will not only administer the Prize, but also will directly fund targeted life-extension research. As enthusiasm and interest grows, we expect that the urgency to succeed in this effort - especially to do so in humans, after big successes have occurred in mice - will make this project very like the Manhattan Project.
TW: Your website often refers to SENS (Strategies for Engineered Senescence.) Are you suggesting that there is a conflict between scientists' and engineers' points of view? What are the systemic limitations of the current scientific establishment that you feel need to be changed in order for progress to occur?
A de G: I wouldn't call it a conflict, but there is a profound difference between the type of creativity involved in doing basic science and the type involved in doing engineering. Ambitious, long-term projects like postponing aging are at the interface of the two, so sometimes there's a communication problem. I think the main aspect of the scientific establishment that's holding back this and maybe other ambitious work is not mainly the fault of scientists: really it's a self-fulfilling "logjam" caused by voter skepticism and government caution in funding blue-sky work.
TW: Much of your work centers on the potentials of gene therapy and bioengineering to improve lifespan. Does that preclude your seeing utility in nutritional supplements? Do you take any and what are they?
A de G: Nutritional supplements are certainly useful. I focus on more futuristic technologies mainly because that's where the effort is most needed - there are lots of experts on supplements. My view of supplements is in line with what the famous biochemist Bruce Ames says: a standard multivitamin a day is a risk-free insurance policy against dietary deficiency in any of the dozens of essential micronutrients, so everyone should take one, especially if you're over 40.
TW: Source Naturals supports the concept of empowering people through advocacy and education to become more self-responsible in seeking the means to live a long and healthy life. The Methuselah Foundation supports research into topics that will create new ways to achieve long and healthy life, and thereby create more choices. In what ways can the public support your efforts to make this great leap in longevity science?
A de G: One of the best ways is to contribute to the Methuselah Mouse Prize! Don't be misled by the size of the fund (we have just reached $1 million) into thinking that a small donation will make no difference, because this is fundamentally a popular enterprise, a people's prize, so the number of individual donors is really just as important as the total. There are lots of other ways to help, too: I've made a list on my website. One of the most important is just to talk to your friends, colleagues and family about life extension and get better at rebutting the standard illogical arguments that people give to suggest that aging is actually a good thing.
TW: Thank you, Aubrey! We agree! For any of our readers who would care to find out more information or make a contribution, please visit the Methuselah Mouse website located at:
http://www.methuselahmouse.org.